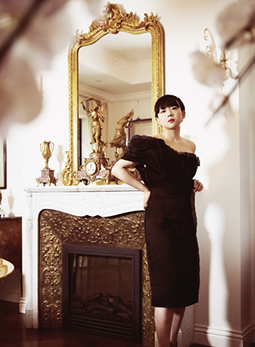 Designer Wen Wei Tong
The creative force behind SHAOO and SHAOO SHADOW, designer Wen Wei Tong was born and grew up in Shanghai. From a family of artists and art historians, she developed a deep connection with classical art and design from a young age.
After graduating from the Fine Arts University of Shanghai, she moved to Paris to study fashion design at ESMOD International.

Wen Wei soon discovered her passion for jewelry design. Her first jewelry collection, launched in 2004, became an instant success and was showcased at Colette Paris. Today, the House of Shaoo encompasses SHAOO fine jewellery and SHAOO SHADOW leather bags and accessories. These lines are sold at the world's finest fashion destinations, including Colette Paris, Le Bon Marche Paris, Liberty London and Lane Crawford Hong Kong.

SHAOO SHADOW
Shaoo Shadow made its debut at Colette Paris in 2004, SHAOO SHADOW's leather accessories present the ultimate expression of classic femininity with a bold, contemporary style. Combining soft, laser-cut calf leather with elements of 19th-Century lace detailing and striking metals, these easy-to-wear statement pieces add instant allure to every look.
Launched in 2011 by designer Wen Wei Tong, the latest chapter in the evolution of SHAOO was SHAOO SHADOW Bags. The SHAOO SHADOW collection of totes, handbags, clutches and matching wallets is infused with the classic-meets-contemporary DNA of SHAOO's fine jewelry series. The collection combines laser-cut leather, vintage lace inspiration and art deco elements, finished with high-quality metal link chains.
SHAOO
Since 2007, SHAOO has been reviving the lost beauty of jade and injecting an avant-garde spirit into fine jewelry. Drawing inspiration from her Chinese heritage, designer Wen Wei Tong uses the finest Hetian jade, a royal gem once exclusively reserved for Chinese emperors.
In her ateliers in Paris and Shanghai, traditional artisans with more than 30 years' experience exquisitely hand-carve each precious stone. It takes more than one week to create SHAOO's signature delicate lace-like designs. The jade is adorned with 18-carat gold, pearls or diamonds to create a truly one-of-a-kind artwork.
Jade is a powerful conduit of holistic energy believed to bring luck and harmony to its wearer. A classic statement of beauty imbued with a modern feminine spirit, SHAOO's jade jewels will invigorate your own beautiful journey.